World stocks hit a new record high on Monday, as U.S. index futures followed Asian stocks on better-than-expected company earnings and strong US jobs data deflected attention from the rising geopolitical tension over North Korea's nuclear program. European stocks traded near session lows while Crude oil prices fall. The Bloomberg Dollar Spot Index was little changed ahead of speeches by the Fed's James Bullard and Neel Kashkari later Monday. Yields on U.S. and German Bunds rose off one-month lows hit at the end of last week, while the yield on China's 10-year sovereign bonds climbs 3 bps to a two-month high of 3.67%, after Friday's better-than-expected jobs data brightened investors' outlook for the U.S. economy.
The Dow Jones recorded its eighth consecutive record high on Friday, with MSCI's broadest index of Asia-Pacific shares outside Japan adding 0.5% on Monday. Helping global stocks hit record highs, of the nearly 1000 companies in the MSCI world index that have reported, 67% have beaten expectations, according to Reuters data. Of the MSCI Europe companies having reported, 61% have either met or beat expectations. But focusing on industrial firms, of which many depend on exports, and are sensitive to a stronger euro, the beat ratio is just 37%. Also the U.S. dollar dipped slightly but held on to much of Friday's gains - its biggest daily rise this year, after data showed the United States created more jobs than forecast last month. As a result, the MSCI World index rose above a peak breached late last month, setting a new all-time high of 480.09 on Monday. "The US made the most noise last week. At the start of the new week, risk sentiment improved in Asia with investors continuing to show a certain degree of risk affinity," DZ Bank strategist Rene Albrecht said. For some analysts, Monday's pull back in the dollar backs some views in markets that Friday's rally may not have legs.
The dollar index, which tracks the greenback against a basket of six global peers, inched back 0.2 percent to 93.361. It rallied 0.76 percent on Friday, its biggest one-day gain this year. The dollar slipped 0.2 percent against the euro to $1.1796 per euro, after surging 0.8 percent on Friday. "The most logical view here is the moves on Friday were clearly just a sizeable covering of USD shorts, from what was one of the biggest net short positions held against the USD for many years," Chris Weston, chief market strategist at IG in Melbourne, wrote in a note. For the dollar rally to gain momentum, the market needs to change its interest rate pricing, Weston added. Despite another drain in liquidity by the PBOC overnight. which soaked up another CNY60 billion in net reverse repos, Chinese industrial commodity metal soared, led by aluminum futures while steel rebar surged as much as 6.4% higher, before closing up 3.0% as iron ore closed up 6.5%...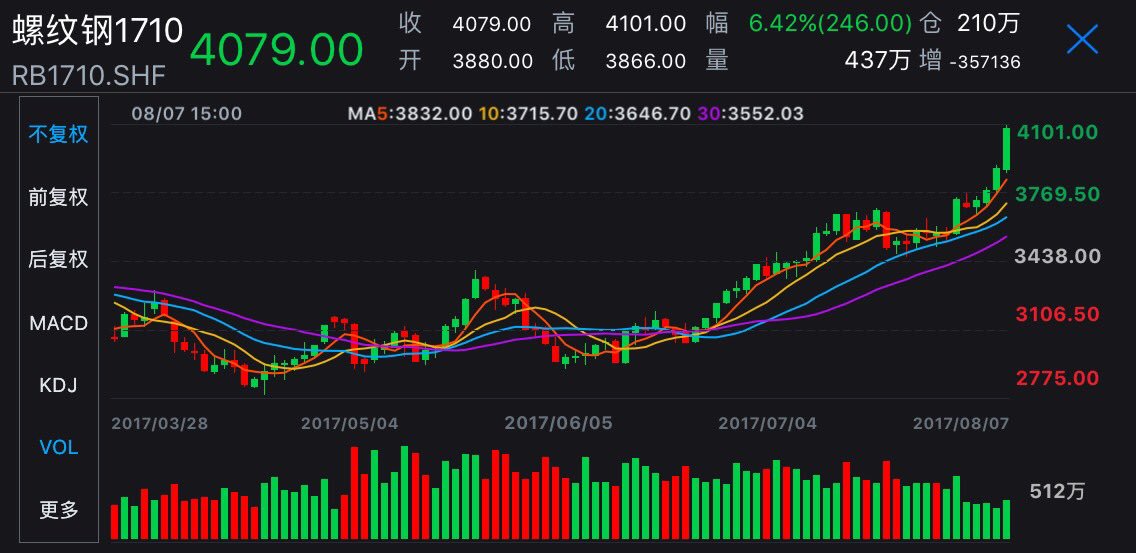 #

YUAN TALKS @YuanTalks

Steel rebar futures in #China closed 6.4% higher; #IronOre closed 3% higher after surging as much as 6.5% intraday

In the overnight FX session, kiwi slod 0.6% against greenback to 0.7368 while the euro rose as much as 0.2% to $1.1814, approaching its highest since early 2015, despite an unexpected drop in German industrial production in June. Output fell 1.1% in June after rising 1.2% in May, far below the estimated 0.2% increase and the first drop in six months. Production was up 2.4 percent from a year earlier. Still, with strong orders pointing to a likely pickup in manufacturing, the report is unlikely to mark a turning point for the German economy. Meanwhile, business confidence is at a record high and the Bundesbank sees growth continuing, even as momentum at the start of the third quarter lagged behind that of France, Italy and Spain for the first time in more than 12 years...
The common currency rebounded following a slump against the greenback in the wake of U.S. jobs data on Friday. With EUR-USD parity now long forgotten, the next "big thing" on FX traders' minds is whether and when EUR-GBP parity may be achieved (with some penciling in the end of the year)...
"I'm maxing on the euro at $1.20 at the moment, and I'm happy for it to be poodling along for a little while until something new and different comes long," David Bloom, global head of currency strategy at HSBC said in an interview with Bloomberg TV. "It could be tax reform in the U.S." As

Bloomberg writes

, "the euro's continued resilience is a testament to growing investor confidence in the growth story of the European Union amid disappointment over U.S. President Donald Trump's failure get tax reform and infrastructure spending plans off the ground." Monday's report from Germany is unlikely to mark a turning point for either the nation's economy or the wider bloc, which has successfully navigated a series of political challenges while expansion accelerates. Meanwhile, European stocks slumped near session lows after rising 1% on Friday, the most since July 12, thanks to the drop in the Euro.

The STOXX Europe 600 Price Index declined 0.3%, led by drop in IT, travel and real-estate shares, offsetting advances for ArcelorMittal, BHP Billiton Plc and Anglo American Plc after iron ore and steel prices climbed. Travel and leisure shares fall 0.6%, tech retreats 0.5%' Basic resources surged 1.1%. Germany's DAX Index sank 0.2 percent. Earlier, Japan's Topix index ended at a two-year high, boosted by earnings at Toyota Motor Corp., while benchmarks in Australia, South Korea and Hong Kong also gained. Toyota jumped 2 percent after it beat first-quarter profit estimates and raised its full-year forecast on Friday. Australia's ASX 200 (+0.9%) was led higher by commodity names after an early surge in Chinese Iron Ore futures, and as strong Australian Construction PMI (60.5 vs. Prey. 56.0) further contributed to the sector's positivity. Nikkei 225 (+0.5%) was boosted by JPY weakness. South Korea's Kospi index gained 0.1 percent. In Hong Kong, the Hang Seng Index rose 0.4 percent. The MSCI Asia-Pacific Index added 0.5 percent to trade near to its highest since December 2007. The Japanese yen decreased 0.1 percent to 110.80 per dollar. Aside from a slight weakening in the Korean won, there was little financial market reaction to the news over the weekend that the U.N. Security Council unanimously imposed new sanctions on North Korea aimed at pressuring Pyongyang to end its nuclear program.

Late on Sunday, Donald Trump tweeted that South Korean President Moon Jae-in agreed in a telephone call on Monday to apply maximum pressure and sanctions on North Korea, while China expressed hope that North and South Korea could resume contact soon. Elsewhere, Sir Simon Fraser has warned that Brexit negotiations have not begun well blaming the Government's failure so state clearly its position. The Telegraph reported that the UK is prepared to pay for a Brexit separation bill of as much as €40bln in which it is likely to offer 3 annual payments of €10bn, then finalise the total alongside trade discussions, according to sources. However, later source reports in The Guardian dismissed this as inaccurate speculation. West Texas Crude futures fell away from nine-week highs hit after the strong job data bolstered hopes for growing energy demand, and dropped below $49 a barrel as producers gathered in Abu Dhabi to discuss why some of them are falling behind in pledges to reduce output. Gold fell 0.1 percent to $1,257.80 an ounce, the weakest in a week. Copper declined less than 0.05 percent to $2.88 a pound. In rates, the yield on 10-year Treasuries advanced one basis point to 2.27%. Germany's 10-year yield climbed one basis point to 0.48%. Britain's 10-year yield declined less than one basis point to 1.174%. Among the key events this week, OPEC and non-member nations will meet in Abu Dhabi today to discuss supply cut compliance, which fell to 86% in July.

It's a week of industrial data in Europe. U.K. factory output for June is due Thursday. After Monday's industrial production for Germany, Italy is on Wednesday and France on Friday. Among a number of Fed speakers this week, keep a keen ear out for comments by New York Fed boss Bill Dudley on Thursday. South African President Jacob Zuma faces a no-confidence vote. Dutch Prime Minister Mark Rutte resumes talks to form a coalition government on Wednesday. The Fed's inflation puzzle means Friday's CPI data will get close attention. Economists estimate that headline picked up in July to 1.8% from 1.6%, while core stayed at 1.7%. Argentina, Mexico, New Zealand, Peru, the Philippines, Serbia and Zambia set monetary policy.

#

Global Market Snapshot

;

-

S&P 500 futures up 0.1% to 2,474

- STOXX Europe 600 down 0.1% to 382.15

- Nikkei up 0.5% to 20,055.89

- Topix up 0.5% to 1,639.27

- Hang Seng Index up 0.5% to 27,690.36

- Shanghai Composite up 0.5% to 3,279.46

- Brent Futures down 0.7% to $52.05/bbl

- Gold spot down 0.08% to $1,257.89

- U.S. Dollar Index down 0.2% to 93.37

#

Top Overnight News

;

- North Korea condemned the latest round of United Nations sanctions and reiterated that it wouldn't negotiate its nuclear deterrence until the U.S. ceases "hostile" policies

- Theresa May's office dismissed as speculation a report that the U.K. is prepared to pay a 40 billion-euro ($47 billion) bill to leave the European Union, while leading Brexit supporters pushed back against paying anything at all

- German industrial production unexpectedly slipped in June as manufacturing and construction caused a temporary blip in the growth spurt of Europe's largest economy

- New Chief of Staff Kelly Moves Quickly to Tame Trump's Tweets

- Senate Chairman Demanding Answers Ramps Up Trump Russia Probe

- United Technologies Is Said to Weigh Rockwell Collins Deal

- Sprint Is Said to Resume Preliminary Talks on T- Mobile Merger

- BlackRock Real Assets Acquires Magacela Solar Project Bond

- Berkshire Second Quarter Operating EPS Misses Lowest Estimate

- Berkshire Filing Shows Further Reduction in Buffett's IBM Stake

- Uber Engineer Told Kalanick of Alibi for Downloaded Files

- Boeing, U.S. Have Deal for Air Force One Planes Russia Abandoned

- Eros Said in Talks to Sell Content Library to Apple for $1B: ET

- SoftBank Talks Were Said to Value Uber at $45b: The Information

- JPMorgan to Announce Warsaw Office Investment in Sept. Puls

*)

Asian equity markets

traded mostly higher

following Friday's gains on Wall Street and as the region took its first opportunity to react to the better than expected NFP release. ASX 200 (+1.0%) was led higher by commodity names after an early surge in Chinese Iron Ore futures, and as strong Australian Construction PMI (60.5 vs. Prey. 56.0) further contributed to the sector's positivity. Nikkei 225 (+0.6%) was boosted by JPY weakness, Shanghai Comp (+0.2%) was the underperformer despite a substantial liquidity injection by the PBoC, as this still amounted to a daily net outflow of CNY 60bn after expiring prior operations were accounted for. Finally, 10yr JGBs were flat with demand dampened by the upbeat tone in the region and a lack of BoJ Rinban announcement. Shanghai Stock Exchange is to increase scrutiny of M&A, transfer of control deals and other corporate actions that could lead to financial risk in the market. PBoC injected CNY 130b1n in 7-day reverse repos and CNY 120bln in 14-day reverse repos. PBoC set CNY mid-point at 6.7228 (Prey. 6.7132). Chinese FX Reserves (Monthly) (Jul) 3.081T vs. Exp. 3.069T (Prey. 3.057T) China Q2 prelim current account USD 52.9bln vs. Prev. USD 18.4bln

#

Top Asian News

;

- Correction May Loom for India Bank Stocks, Hedge Fund Warns

- China's Foreign Reserves Rise a Sixth Month on Yuan Strength

- As Results Loom, Noble Group Won't Reply to Latest Iceberg Barbs

- North Korea Condemns Latest UN Nuclear Sanctions, Vows Response

- SoftBank Profit Tops Estimates Amid Shift Into Deals, Investing

*)

European bourses

trade rangebound

following Friday's NFP volatility, and do maintain their highs. European bourses trade mixed, however marginally so, with Stoxx 600 sector seeing any movement greater than 1%. A large position liquidation in the German bund sparked some morning volatility, in otherwise quiet conditions. The future contract came off session highs, however, did manage to find support at the 163.00 handle.

#

Top European News

;

- London Home Rents Fall Again After Almost Decade of Growth Halts

- U.K. House-Price Growth Slows to Weakest Pace in Four Years

- U.K. Economy Takes a Hit as Consumer Spending Slumps Further

- German Industrial Output Unexpectedly Falls First Time This Year

- Euro Climbs to Fresh Day High as Demand on Crosses Supports

- Paris Aims to Overtake Frankfurt in Race for Brexit Bank Jobs

- Taking a Long Shot on Cancer, AstraZeneca Defies the Odds

- Linde Forms Holding Company for Merger With Praxair: Welt

# In

currencies

, the EUR saw some early buying pressure this morning, coinciding with the Bund liquidation, as EUR pairs popped through overnight levels. No fundamental factors sparked the movement, with EUR/CHF seeing the main bullish pressure, yet resistance was found at 1.15 and we now trade at largely pre-announced levels. GBP was unmoved following contradicting reports in UK press over reports on Brexit costs and remains comfortably above 1.30. The Telegraph noted that the UK is prepared to pay EUR 40b1n for Brexit divorce bill, however source reports in the Guardian dismissed this as inaccurate speculation.

# In

commodities

, copper prices traded choppy with initial upside seen as Dalian Iron Ore and Rebar futures surged at the open of China metals trade, which was due to reduced stockpiles and firm demand. However, copper then failed to hold onto the gains and retreated amid a cautious risk tone in China. WTI futures failed to test the USD 50.00/bbl level and ran into some resistance around USD 49.60 on Friday, following the latest Baker Hughes Rig Count. Oil does continue to trade in this August; 48.50, 50.00 range, as we are set to see an OPEC compliance meeting this week. Global demand has seemingly picked up of late however, with China now overtaking the United States as the world's largest importer of crude importing an average 8.55m1n BPD in the first half of 2017, above the 8.12mln BPD. WTI has been softer this morning, down 1.20% as we have broken through 49.00/bbl. Libya's Sharara oil field (largest in the country), is said to face stoppage due to protests, according to press reports.

# Looking at

the day ahead

, today starts with Germany's industrial production figures for June in early morning, followed by UK's July Halifax house price index and then US's consumer credit stats for July. Also today we have speeches from the Fed's Bullard and the Fed's Kashkari, followed by the OPEC/Non-OPEC joint technical committee meeting in Abu Dhabi....