After six months of bloody fighting, Iraqi military commanders now say that their forces are "tens of meters" away from recapturing the city of Mosul from the so-called Islamic State (IS or ISIS or ISIL or Daesh), which shocked the world by capturing the city in 2014 almost overnight, and took control of almost one-third of all of Iraq. The US military is confirming that "an announcement is imminent. I don't want to speculate if it's today or tomorrow but I think it's going to be very soon."
RFE/RL
and
Reuters
However, there are still things that can go wrong. ISIS is claiming that it will "fight to the death" in the city. They're trying to do as much damage as possible by shooting civilians in the street, blowing up buildings, and laying IEDs to kill Iraqi soldiers. As a diversionary attack on Friday, ISIS militants attacked Imam Gharbi village, a village south of Mosul, killing several people including two journalists. There are still hundreds of ISIS militants remaining in Mosul, squeezed into a shrinking rectangle no more than 300 by 500 meters beside the Tigris river. It's estimated that more than 10,000 civilians remained trapped in the same region, many of whom are being used by ISIS as human shields....
NRT TV (Kurdistan)
and
Daily Mail (London)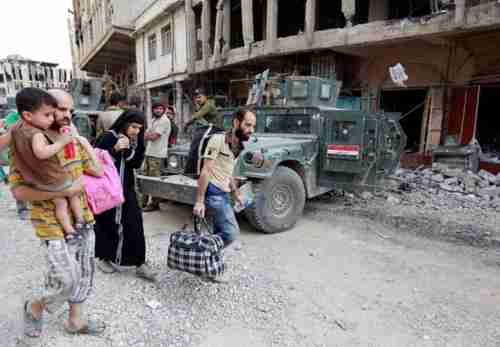 # ISIS is expected to be driven out of Mosul, its Iraq stronghold, within the next few days, and out of Raqqa, its Syria stronghold, within the next few weeks. However, it doesn't mean the end of ISIS's influence, nor does it mean that Iraq is going to return to "normalcy." Mosul itself remains a humanitarian disaster, with little food or water. From a city of two million people, thousands have been killed and almost a million have been displaced, many living in camps outside the city. It will be years before they can all return to their homes, as almost every building in the city has been damaged or completely destroyed. The United Nations predicts it will cost more than $1 billion to repair basic infrastructure in Mosul. After being driven out of Mosul, ISIS will be forced into mainly rural desert areas west and south of the city where tens of thousands live. From there, militants can launch terror attacks on targets across Iraq. Many of these ISIS militants will be returning to their homes, where they lived before joining ISIS.
Reuters
and
Saudi Gazette
ISIS fighters will still be able to pursue new operations in Iraq, according to Canadian Armed Forces Brig.-Gen. Anderson: "We've got a good 10-12 months' worth of business ahead of us. When I consider how much damage we've inflicted and they're still operational, they're still capable of pulling off things like some of these attacks we've seen internationally. We have to conclude that we do not yet fully appreciate the scale or strength of this phenomenon." Finally, there are still unfinished business between the various groups fighting ISIS. The Turks, the Kurds, and the Shia fighters were excluded from much of the battle of Mosul. Shia militias were excluded because of fears that they may turn on Sunni civilians living in Mosul, as they did in other cities recaptured from ISIS. The Kurds did much of the fighting prior to the entry into Mosul, and now are talking about an independent Kurdistan. The Turks are still furious that they were excluded from the Battle of Mosul, since Turkey has a deep historic connect to Mosul and its people. All these groups were willing to stand aside as long as they had ISIS as a common enemy. Whether they'll continue to stand aside remains to be seen....
Daily Caller
and
Daily Sabah (Ankara)