S&P futures rose 0.1% on the last trading day of the month, trailing European and Asian markets boosted by China's July Mfg. PMI, which despite declining from from 51.7 to 51.4, and missing expecations of 51.5, saw the construction index rise to its highest level since December 13, sending Chinese
iron ore futures surging
and the European commodity sector broadly higher...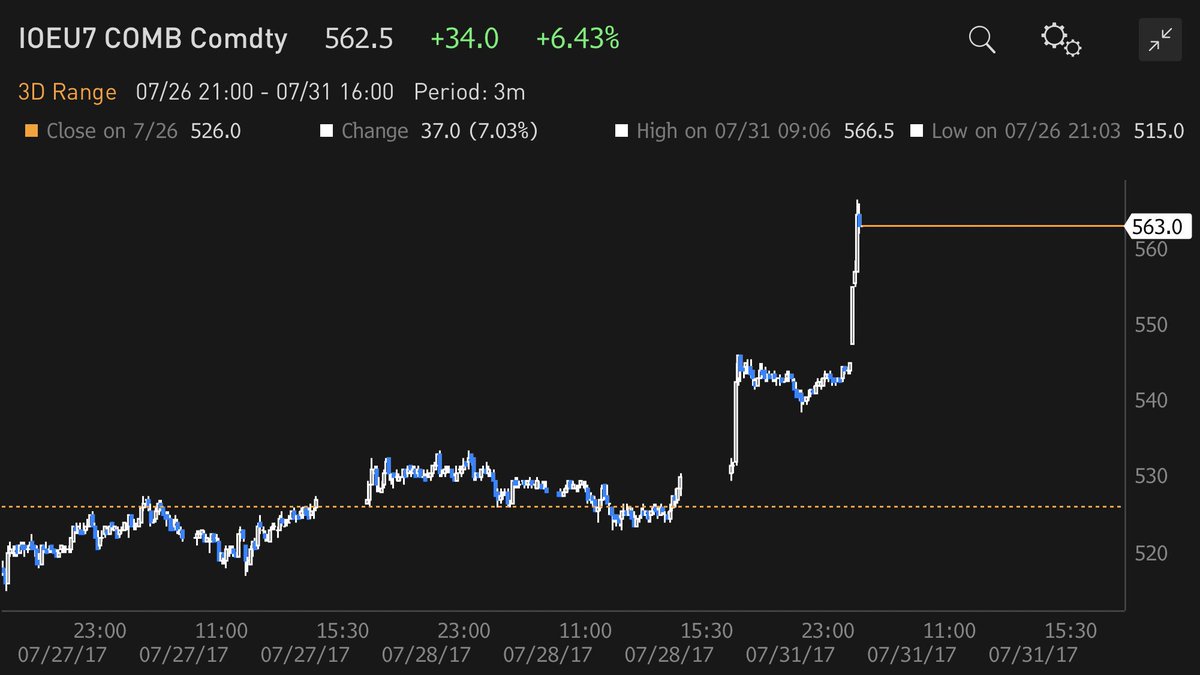 In equities, the MSCI All-Country World Index advanced 0.1%, and the MSCI Emerging Market Index increased 0.3%, while MSCI's broadest index of Asia-Pacific shares outside Japan reversed early losses to rise 0.25%. Stocks have rebounding from Friday's selloff spurred by raw-material producers on "optimism the global economy is gathering momentum" amid "evidence points to resilient global growth, with investors assessing numbers from the world's top three economies" according to
Bloomberg
.
As noted above, China's official factory gauge showed continued expansion in June, even as it slipped amid government efforts to curb financial risks. Japan's industrial output expanded in June, while data Friday showed the U.S. economy accelerating in the second quarter. Investors remained wary after North Korea conducted a missile test late on Friday that it said proved its ability to strike the U.S. mainland. The U.S. responded by flying two bombers over the Korean peninsula on Sunday. But early jitters dissipated somewhat, with the Korean won reversing losses. The dollar was down 0.2 percent at 1,120.7 won, after jumping almost 0.7% on Friday. South Korea's KOSPI fell 0.2%. "The geopolitical overhang will likely keep topside moves in check early in the week as the disorganized U.S. and China policy towards North Korea is not helping matters," Stephen Innes, head of Asia-Pacific trading at OANDA, wrote in a note. In Europe, Anglo American, Rio Tinto Plc and BHP Billiton helped underpin the advance in the Stoxx Euro 600 Index as miners also propelled the MSCI All Country World Index toward a ninth month of gains. HSBC shares jumped as much as 3% to the highest since November 2014 on a $2 billion buyback as profit rose. Shares have climbed 26% this year, with the lender accounting for 13% of Hang Seng Index's 24% YTD gain, most after Tencent.
"Global expansion dynamics are well underway," analysts at Candriam Investors Group wrote in a report. "The European recovery is well on track and is leading to above-trend growth in 2017-18. This has led us to increase our profit earnings expectations for euro-zone equities. The economic news flow is starting to become more supportive in the U.S., while emerging markets are benefiting from a good economic momentum." A quick look at the FX book shows the Canadian dollar is biggest loser within G-10, while the yen and euro are mixed. Sovereign yields are near unchanged with the T-note yield at 2.29%. Asian stocks are broadly higher led by Australia and China. Chinese shares rose 0.6%, buoyed by several leading companies' forecasts for strong mid-year earnings. The blue-chip index and the Shanghai Composite both rose 0.6 percent. Japan's Topix index closed 0.2 percent lower after swinging between gains and losses. Australia's S&P/ASX 200 Index rose 0.3 percent and South Korea's Kospi index added 0.1 percent. Hong Kong's Hang Seng Index added 1.1 percent. HSBC was among the biggest contributors to the advance (more below). West Texas crude traded above $50 a barrel for the first time since May, while copper rose to a two-year high and iron ore surged...
In the Asian session, the dollar index climbed with gains tempered by tensions over the weekend between U.S. and Russia, as wells as North Korea. In Europe, Euro, EGBs largely unchanged as euro area July inflation matches estimates. Pound slips against dollar. The Bloomberg Dollar Spot Index edged higher, paring its fifth straight month of declines, as investors prepare for a data-heavy week that will culminate with the release of non-farm payrolls data for July, while Apple, Pfizer, Tesla and Berkshire Hathaway will report earnings. The euro began the week on a soft note as investors waited for second-quarter growth data due Tuesday. The Swiss franc was little changed against the euro, after posting its biggest weekly decline in more than two years; last week's selloff was triggered by a host of factors, including stop losses and talk of initial public offer-related flows. The ruble slid 1.2% to 60.2550 per dollar, falling for a third day and the most among emerging-market currencies amid heightened geopolitical risks after Russia ordered expulsion of U.S. diplomats. Russian government bonds fell, driving the 10-year yield higher by 9bps. Also overnight, the BOJ maintained its govt bond purchase plans for August unchanged from July. Below are Bloomberg's comparisons between planned purchase ranges for August against those for July and the amounts BOJ offered to buy at the last operations:

*1-to-3 years: 200b-300b yen vs 200b-300b yen for July, 280b yen on July 28

*3-to-5 years: 250b-350b yen vs 250b-350b yen for July, 330b yen on July 28

*5-to-10 years: 350b-550b yen vs 350b-550b yen for July, 470b yen July 28

*10- to-25 years: 150b-250b yen vs 150b-250b yen for July, 200b yen on July 26

*More than 25 years: 50b-150b yen vs 50b-150b yen for July, 100b yen on July 26

*Up to 1 year: 50b-150b yen vs 50b-150b yen for July, 100b yen on July 26

U.S. crude futures climbed 0.3 percent to $49.87 a barrel, after earlier hitting $50.06, their first foray above $50 in two months. Brent crude advanced 0.5 percent to $52.78, adding to Friday's 2 percent surge. Gold was little changed at $1,268.26 an ounce, after earlier climbing to its highest since June 14. In rates, the yield on 10-year Treasuries advanced less than one basis point to 2.29%. Germany's 10-year yield climbed one basis point. Britain's 10-year yield fell less than one basis point. Copper climbed 1.1 percent to $2.91 a pound, the highest in more than two years. Zinc gained 1.1 percent, nickel 0.7 percent and tin 1 percent Gold fell 0.2 percent to $1,266.98 an ounce after rising to $1,271.23, the highest since June 14. Gold remains on course for its biggest monthly advance since Feb, with prices trading near highest level in more than six weeks, as speculation that Federal Reserve will go slow on raising interest rates hurts dollar. Bullion for immediate delivery +2.2% this month, most since Feb.'s +3.1%.

"U.S. GDP data was weaker than expected and inflation remains subdued, which could damp Fed rate hike expectations," Guotai Junan Futures says in note. "Gold has scope to rise further in the near term." Markets are awaiting speeches by Cleveland Federal Reserve President Loretta Mester and San Francisco Fed President John Williams on Tuesday, for further insight into whether the central bank has turned more dovish in light of recently muted inflation. "It is easy for uncertainty to increase about the Fed's ability to raise rates next year if inflation remains low. We could see the dollar head below 110.00 yen under such circumstances," said Junichi Ishikawa, senior forex strategist at IG Securities in Tokyo. The slew of corporate earnings continues. Apple Inc., Tesla Inc., Berkshire Hathaway Inc. and Toyota Motor Corp. are all set to unveil results this week. Pending home sales and Dallas Fed manufacturing activity is expected later on Monday, along with earnings reports from Stifel Financial, Loews and others.

#

Market Snapshot

;

-

S&P 500 futures up 0.11% to 2,473.00

- STOXX Europe 600 up 0.3% to 379.46

- Nikkei down 0.2% to 19,925.18

- Topix down 0.2% to 1,618.61

- Hang Seng Index up 1.3% to 27,323.99

- Shanghai Composite up 0.6% to 3,273.03

- Euro down 0.2% to 1.1726 per US$

- Brent Futures up 0.2% to $52.61/bbl

- WTI up 0.2% to 49.80/bbl

- Gold spot down 0.3% to $1,266.39

- U.S. Dollar Index up 0.3% to 93.51

#

Top Overnight News

;

- Inflation in the euro area remained well below the European Central Bank's goal as policy makers prepare to discuss unwinding stimulus.

- After the collapse of Obamacare repeal, Republicans may have to choose between pursuing another health bill or pushing through a tax overhaul this year, because there's almost certainly not enough time to do both.

- So how much did it end up taking after European Central Bank President Mario Draghi memorably said five years ago he'd do "whatever it takes" to save the euro? About 1.2 trillion euros.

- The Saudi-led alliance that severed ties with Qatar reinstated a list of 13 demands that must be met before talks to resolve the eight-week crisis could start, just as as fresh economic data highlighted the impact of the unprecedented boycott on the Gulf nation.

- Trump's New Chief Has One Key Asset: Ivanka and Kushner's Nod

- Trump Hints Ending Subsidies to Insurance Cos if No Bill Passed

- SoftBank Is Said to Plan Making Direct Offer for Charter; Charter Says Has No Interest in Acquiring Sprint

- India Needs 2,100 Planes Worth $290b in 20 Years, Boeing Says - Astra's Imfinzi Granted FDA Breakthrough Therapy in Lung Cancer

- J&J Granted FDA Orphan Drug Status for Bedaquiline

- Ford Takes Action to Help Address Concerns of First Responders

- Five Banks Reach $111.2m Total Pact Over FX case, Law Firm Says

- Lockheed Lands $3.69B Advance to Build 50 F-35s for Int'l Buyers

- Alaska Air Says Hacker Accessed Virgin America Worker Passwords

- Koch Network Readies Push for Lower Taxes After Border Tax Kill

- Raytheon's Troubled GPS III Ground Control Network Slips Again

*)

Asia equity markets

traded mixed

ahead of this week's key risk events and as participants digested Chinese Manufacturing PMI and further provocation from North Korea. ASX 200 (+0.4%) was underpinned by commodity names amid strength in the metals complex coupled with WTI crude's brief reclaim of USD 50/bbl to the upside, while Nikkei 225 (-0.2%) was dampened by broad-based JPY strength. Geopolitical concerns pressured the KOSPI (-0.3%) following another North Korean missile test on Friday which it claimed was capable of striking mainland US, while both Hang Seng (+1%) and Shanghai Comp. (+0.6%) were positive despite Official Chinese Manufacturing PMI data missing estimates, as the Construction sub-index rose to its highest since December 2013. Finally, 10yr JGBs were flat and failed to benefit from the cautious risk tone in Japan, with demand subdued following a lacklustre BoJ Rinban announcement valued at just only JPY 325b1n of JGBs. PBoC injected CNY 160 bin 7-day reverse repos and CNY 80bln 14-day reverse repos. Chinese Official Manufacturing PMI (Jul) 51.4 vs. Exp. 51.5 (Prey. 51.7). Chinese Non-Manufacturing PMI (Jul) 54.5 (Prey. 54.90)

#

Top Asian News

;

- China Is Said to Ask Waldorf Owner Anbang to Sell Assets Abroad

- BOJ Keeps August Bond Purchase Ranges Unchanged From July

- Biggest Indian Bank Surges as Deposit Rate Cut May Boost Profit

- Sumitomo Mitsui 1Q Net Income Rises 31% to 241.5b Yen

- SMFG Reports 1st Qtr Group Earnings Result

- Panasonic Reports 1st Qtr Group Earnings Result (IFRS)

- Tian Guoli Is Said to Be Named China Construction Bank Chairman

*)

European bourses

are higher

across the board this morning led through material names, following the Chinese Mfg. PMI data, in which the construction index rose to its highest level since Dec'13. Firm earnings and an announcement to plan a USD 2bln share buyback from Europe's largest bank, HSBC (+3%), has lifted financial names higher this morning with support for health care names also seen in the wake of earnings from Sanofi (+1.8%) whereby the Co. also raised their guidance. A cautious start was initially seen for German paper this morning ahead of this morning's Eurozone CPI data with prices relatively unreactive to the release which saw the headline match expectations with core slightly firmer than anticipated. Peripheral debt outperforming its German counterpart with the BTPSs and Bonos tighter by 3bps. Some suggest BTPs are set to benefit from large month-end extensions.

#

Top European News

;

- U.K. Consumer Borrowing Cools After Bank of England Warning

- HSBC Rises as Second Quarter of Growth Backs Turnaround Story

- Putin Says Hopes Retaliation Ends Once 755 U.S. Staff Ousted

- Rolls- Royce Shares Fall; Is Said to Caution on Cash Flow to FT

- Greece's Road to Bailout Exit: 140 Reforms Down, More to Go

- U.K. Takes Two Steps Forward, One Step Back on Brexit Plan

- Italian Unemployment Declines; Jobs Growth Led by Temporary Work

# In

currencies

, the USD-index begins the week slightly firmer, rising 0.1% overnight to pull off 15-months lows reached last week amid a raft of soft US data. USDCAD has been the notable mover with bargain hunting the likely catalyst, given Friday's 1% decline. Major support lies around 1.2400 with the pair testing stalling at 1.2410¬20 multiple times last week. The antipodeans (AUD,NZD) will be in focus this week, both currencies slightly tailing off their 2Y highs. Last week, AUD reached the highest level since May'15 at 0.8066, however the currency has pulled off somewhat with the Aussie back below 0.80. Focus will be on the RBA statement, in which the central bank may sharpen their language on the AUD to temper its recent surge. NZD hovers above 0.75 with participants likely to keep an eye for latest GDT auction and jobs data which will guide price action. Cable: Another central bank to announce their latest decision will be the BoE who will announce their latest economic projections. It is likely the central bank will keep rates unchanged with inflation cooling to 2.6% in June and growth remaining tepid, this has subsequently reduced speculation over a near term rate rise. Since the last meeting, GBP has risen over 3% with the currency now above 1.31. Resistance ahead at 1.3150-60 with additional offers situated at 1.32 (option barrier level).

# In

commodities

, Brent and WTI futures up a nudge this morning, the latter met resistance at USD 50. Over the weekend, Shell's Pernis oil refinery had been forced to close after reports of a fire at the 404k bpd refinery. Also, source reports indicate the US could announce oil related sanctions on Venezuela as soon as today in a response to Sunday's election. Industrial metals supported overnight from the Chinese PMI data, which saw Dalian iron ore futures hitting limit up in Asia, while steel rebar soared to a 3Y high. US could announce oil related sanctions on Venezuela as soon as today in a response to Sunday's election, according to sources. Sources added that US is considering banning sales of US oil and refined products to Venezuela, but are not expected to include a ban on Venezuelan oil shipments to the US.

# Looking at

today's session

, we will get the Chicago PMI number (60 expected; 65.7 previous), the Dallas Fed manufacturing activity reading (13 expected; 15 previous) for July and June pending home sales (1% expected)....