In what appears to be a repeat of the deadly March 22 terrorist attack on Westminster Bridge in London, on Saturday night a van rammed into as many as 15-20 pedestrians as "several people mowed down" on London Bridge in central London in what has been dubbed a "major incident." The incident happened at 10.30pm on Saturday. According to preliminary reports there have been at least 6 victims, and a cab driver on the bridge has reported he saw a stabbing man. BBC reporter Holly Jones, who was on the bridge at the time of the incident, said the van was driven by a male driver and was "probably travelling at about 50 miles an hour". The van, which was travelling from the direction of central London, headed towards the south side of the river. Additionally, according to eye witnesses several people are receiving emergency treatment after being stabbed. One woman told the Sun; "We had to run there was loads of shooting"...
According to Will Heaven, managing editor of the Spectator, a man crashed into people on the bridgge, "then there was stabbing attack." Heaven also notes that "it seemed south side of London Bridge epicenter of what seems a terrorist attack. We have been escorted by police from bridge." He adds that "what I saw: injured pedestrians, first responders, armed police, people running north. What I heard of: stabbings, injured" According to Sky News, "all the information points in the direction of another terrorist attack"...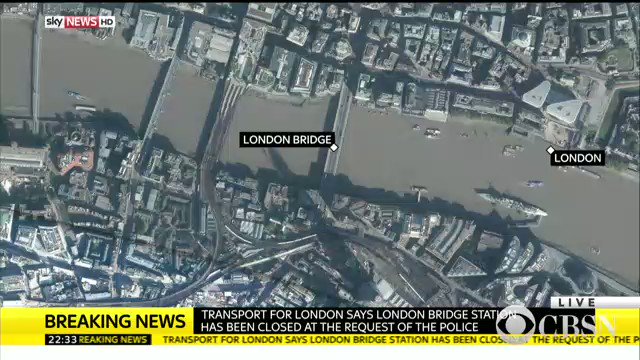 #

Metropolitan Police ✔ @metpoliceuk

We are dealing with an incident on #LondonBridge, when we have more information we will update this twitter feed.

BBC adds that witnesses have said that armed officers are understood to be at the scene after a white van mounted the pavement before driving into people, and that the Metropolitan Police are on the scene. About five people were being treated for injuries after the vehicle mounted the pavement and hit them, she said. So far there has been no official statement from the Metropolitan Police other than a Twitter message posted at 10.28pm which stated: "We are dealing with an incident on #LondonBridge, when we have more information we will update this twitter feed"...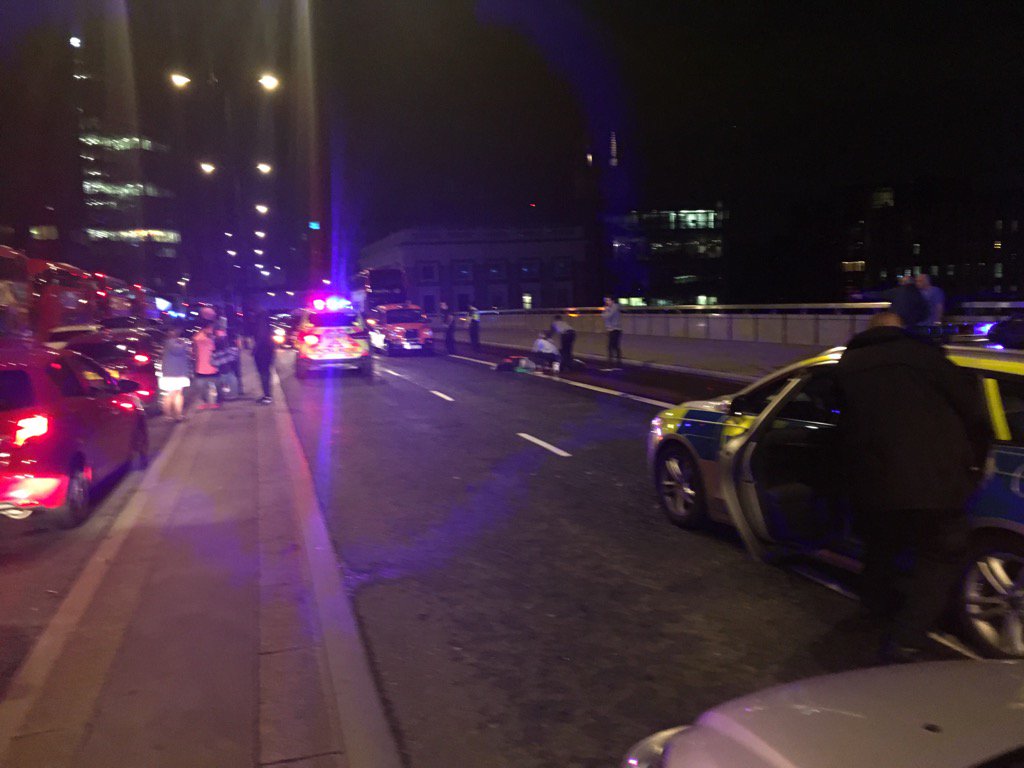 #

CBS News ✔ @CBSNews

JUST IN: British police are responding to an incident on London Bridge; reports of several injured http://cbsn.ws/2k2WwLh....