Tit-for-tat violence between Kashmir separatist insurgents and Indian security forces is escalating again. It was just last month that India launched a massive house-to-house sweep in Kashmir, using 3,000 security forces to root out terrorists. Insurgents have responded with new attacks, including the beating to death of an Indian police officer. Now, Indian security forces are signaling that their patience has run its course, and a new "Operation All-Out" is being launched. According to media reports in India: "The country's top security establishment has prepared a blueprint to deliver a lethal blow to terrorism in Jammu and Kashmir with a long-term plan for a lasting peace in the trouble-torn Valley. As many as 258 militants from a clutch of outfits have been shortlisted for Operation All-Out that has been launched strategically in parts of the region.
#
Indian army soldiers conduct a patrol during an operation against suspected rebels in Kashmir
...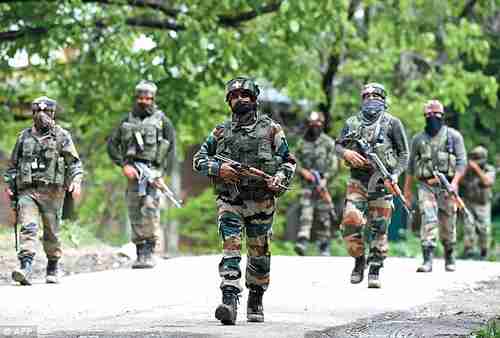 Sources also said intelligence inputs reveal that a new consignment of arms arrived in the Valley from across the border. "These are Chinese-made arms with better precision and more lethal effects," the sources said, pointing out that Chinese hand grenades were used in an attack on a CRPF Battalion this week." These statements are significant not only because they signal escalated fighting in Kashmir, but also because they suggest Chinese intervention on the side of Pakistan. According to the reports, the 258 militants who are being targeted are mostly from three terrorist groups:
- Lashkar-e-Toiba (LeT), a Pakistan-based terrorist group that was formed in the 1990s by Pakistan's Inter-Services Intelligence (ISI) agency to fight India in the disputed regions of Kashmir and Jammu. LeT was the perpetrator of the horrific "26/11" three-day attack on Mumbai in 2008, killing 166 people and wounding hundreds more. (After Mumbai's '26/11' nightmare finally ends, India - Pakistan relations face crisis" from 2008)
- Jaish-e-Mohammad (JeM), a Pakistan-based terrorist group responsible for the January 2016 attack on India's Pathankot air base, leading to a three-day gunfight.
- Hizbul Mujahedeen (HM), a Kashmir-based terrorist group that has been leading the anti-Indian stone-throwing riots of the past year, triggered by the July 8 2016 death of HM leader Burhan Wani in a gunfight with the Indian army. Since then, thousands of Kashmiris have been blinded in one or both eyes by pellet guns used by Indian security forces, and thousands of youths have been arrested.
India Legal Live
and
AP
#
Kashmir escalations building to all-out war
. From the generational theory, Kashmir is rapidly heading for all-out war, possibly by the end of this summer. Long-time ago I wrote about the Sri Lankan civil war between the governing ethnic majority (Buddhist) Sinhalese and the ethnic minority (Hindu) Tamils. A separatist group, the Liberation Tigers of Tamil Eelam (LTTE) or "Tamil Tigers" had been fighting an insurgency since the 1970s, although a peace agreement had been signed in 2003. In that article, I quoted a military chief as saying that he was "confident" of defeating the Tamil by the end of the year. He said that the Tamils had violated the peace agreement repeatedly, so that it was meaningless, and: "We can bring the war against the LTTE to a turning point once we are able to destroy the LTTE capabilities to operate in bunkers and forward defense lines." The government had indeed run out of patience, and launched all-out war against the Tamil separatists, even killing them with artillery when they were hiding behind innocent civilians used as human shields. The civil war climaxed in May 2009, following reports of genocide on both sides, when the separatist Tamil Tigers surrendered and renounced further violence, ending the Sri Lanka crisis civil war.
India Today
If we apply the Sri Lanka situation to the current situation in Kashmir, there are some similarities and differences. In both cases, there was an ethnic/religious fault line (Buddhist Sinhalese versus Hindu Tamils, and Muslim Kashmiris versus Hindu Indians). In both cases, the insurgency had gone on for years, with periods of low-level violence alternating with periods of mediated peace. In both cases, each new round of violence was worse than the previous one. When the Sinhalese army "lost patience" in January 2008, it was a turning point in the war. In terms of Generational Dynamics, this was the point of "regeneracy," a term that's used in generational theory to describe the regeneracy of civic unity for the first time since the climactic end of the previous generational crisis war. The regeneracy is characterized by increased xenophobia and nationalism on all sides, and an attitude of "lost patience," meaning that "I'm going to end this war, once and for all." Compromise is no longer an option. The war continues and becomes increasingly genocidal, until there's an explosive genocidal climax that's so horrible that it brings the war to an end. In the case of Sri Lanka, the war did come to an end. Only now, nine years later, are we beginning to see the first signs of new decades of on again off again conflict, this time between the Sinhalese Buddhists and the Muslim Bodu Bala Sena (BBS).
#
So what does this tell us about Kashmir?
In Sri Lanka, there was "lost patience," a regeneracy, another 17 months of increasingly genocidal fighting, an explosive climax, and then the war was over. With "Operation All-Out," we might imagine another 17 months of increasingly genocidal conflict between the Kashmiris and the Indian security forces, after which there will be an explosive climax and the war will be over. But one can quickly see that won't happen in Kashmir. Sri Lanka is a relatively small island, and the fighting was contained to that island. India might have intervened, but did not intervene, so the war ended. Kashmir is a small region, but it's surrounded by Pakistan and India. The war in Kashmir would not be contained. All-out war in Kashmir would spread to all-out war between Pakistan and India, with China supporting Pakistan and Russia supporting India.
All-out war in Kashmir would be the start of the Clash of Civilizations World War
....