Egypt's president Abdel al-Fattah al-Sisi on Saturday ratified an extremely controversial deal that hands over the two strategically important Red Sea islands of Tiran and Sanafir to Saudi Arabia. The islands are at the mouth of the Gulf of Aqaba, where they oversee the passage of ships carrying goods between the Red Sea and four countries; Egypt, Israel, Jordan and Saudi Arabia...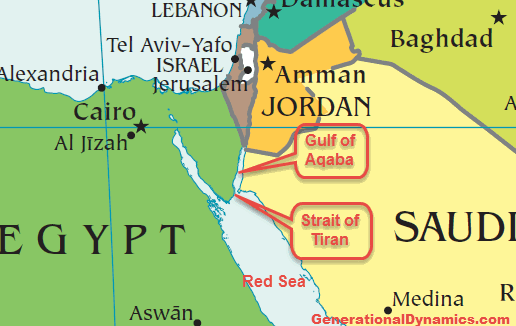 The plans to hand over the islands were part of an April 2016 announcement that the two countries would build a land bridge connected Saudi Arabia and Egypt, 10-20 miles (16-32 km) long, right at the location where the prophet Moses is said to have parted the Red Sea, in order to bring his people out of slavery into the Promised Land. It would be called the King Salman Bridge, named after Saudi Arabia's leader, Salman bin Abdulaziz al-Saud. That announcement triggered massive protests in Egypt, with opponents claiming that Egypt was forfeiting the country's territory and sovereignty in exchange for bribery and extortion by Saudi Arabia, a threat to cut off fuel subsidies, and the promise of $22 billion in development projects in Egypt to help its ailing economy. Opponents of the handover claim that the Tiran and Sanafir islands were granted to Egypt in 1906 in an agreement to draw up formal boundaries between Egypt and the Ottoman Empire. Supporters of the deal claim they've always belonged to Saudi Arabia, but they were placed under the administration of Egypt in 1949 in the wake of Arab-Israeli tensions, following the creation of the state of Israel.
Al-Ahram (Cairo)
and
France 24
The main emotional attachment that Egyptians have to the islands follows from the fact that many Egyptians died defending the islands during two wars with Israel, one in 1957 and one in 1967. Israel captured the two islands in the 1967 Six-Day war, but they were returned to Egypt under the 1979 Camp David accords. The validity of the handover has been extremely contentious in Egypt's court system. In January 2017, Egypt's High Administrative Court voided the deal handing over the islands. Then, in April, the Cairo Court for Urgent Matters OKed the deal, after ruling that the High Administrative Court has no jurisdiction in the matter. On June 14, Egypt's parliament approved the deal. Egypt's Constitutional Court has yet to rule on the matter, and may still nullify the deal. A major deal such as this one would normally call for lavish ceremonies, but a decision has been made to have no ceremonies whatsoever, for fear of triggering further protests....
Egypt Independent
,
Global Security
and
Politico (1-Nov-2015)