On Wednesday, in the district of Budgam in India-controlled Kashmir, Indian security forces raided the home of an anti-government militant Tauseef Ahmad Wagay who had allegedly been responsible for inciting violence against police. According to India media reports, villagers began obstructing the police and pelting them with stones, in order to allow the militants in the home to escape. In the end, three stone pelters were killed by police gunfire, along with the militant. Dozens of police personnel were injured. On Friday, after Friday prayers, clashes erupted between government forces and stone-throwing villagers in several towns across Kashmir, to protest the shooting deaths on Wednesday. Stone-throwing incidents have occurred occasionally in the past, but became frequent after July 8 of last year, when Burhan Wani, the leader of the Kashmir separatist group Hizbul Mujahideen, was killed by Indian police fire. Massive riots in Kashmir began the next day. Indian police responded with rubber bullets, leaving many protesters wounded or killed or blinded by the pellets, and that kind of violence has been an almost daily occurrence since then. After hundreds of people had been blinded by the pellets, the police were convinced to stop using them. By this time winter was approaching, and the protests died down...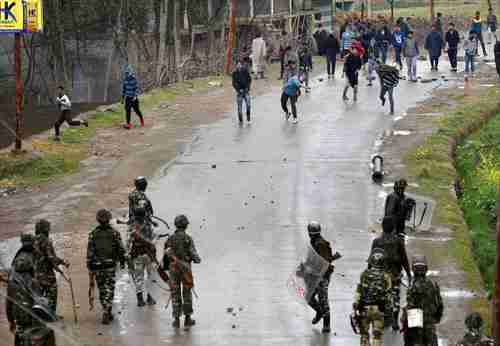 But now that the weather is getting warmer again, the protests are growing again, and they may become massive by the end of the summer. At any rate, there's certainly no reason to expect them to die off. India's Home Minister Rajnath Singh gave a delusional speech on Friday, saying that the increasing protests are occurring because they're being encouraged by Pakistan-based sources, using social media applications like Whatsapp and Facebook: "I want to inform the House, and we should be proud of it Deputy Chairman, that the way the terrorists should be responded to, our soldiers are giving them reply in the same way, in the same language. A new trend has started in the last few months. Deputy speaker, the trend is this that whenever our soldiers start an operation, some youth from the villages come and start pelting stones on the security forces. But I believe, that our Kashmiri youth, who do stone pelting, are being misled by some Pak-sponsored sources. I want to appeal to the youth of Kashmir to please don't get misled by Pakistan, they are regularly trying to destabilise India. I also want to inform the House that this crowd (of stone pelters) are assembled by some Pakistan-based groups with the help of social media applications like Whatsapp and Facebook. All of these are used. I want to say it again that the groups, which use social media for this, are based in Pakistan only. I also want to say, as far as terrorism is concerned, the way terrorism should be responded to, our soldiers are dealing with them in the same way and they will keep doing that in future also. And I want to say that will definitely become successful."
First Post (India)
There are a couple of things to note about the above statement. First, there's a note of revenge in the speech with such phrases as, "our soldiers are giving them reply in the same way, in the same language." The desire for revenge is quite understandable under the circumstances, but it's not going to end the violence and, in fact, it will only invite tit-for-tat increases in violence. Second, Singh blames Pakistan-based groups using social media for inciting the stone-throwers. It's quite possible that Pakistan-based groups are using social media to incite stone-throwers, but in no way does that explain the large protests. Al-Qaeda and ISIS-linked groups have been trying to incite jihadist violence in the United States for years, but outside of a few "lone wolf" attacks, we've had no large similar protests, even where there are large Muslim communities in Detroit and Minneapolis. Blaming social media for what's happening is totally delusional. Third, Singh says, "And I want to say that will definitely become successful." Once again, this is totally delusional. What seems most likely to happen is that violence will increase on both sides this summer, and may spiral into something slightly bigger or much bigger.
Financial Express (India)